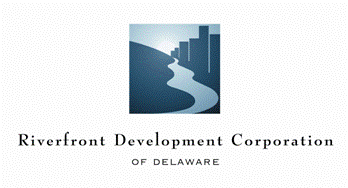 Riverfront Development Corporation of Delaware Seeks A Full-Time Administrative Assistant
The Riverfront Development Corporation of Delaware (RDC), created in 1995, by a Governor's task force to oversee the futures of the Brandywine and Christina Rivers. Established with primary funding from the State of Delaware and some additional contributions from the City of Wilmington and New Castle County, the RDC is focused on creating economic vitality along the Brandywine and Christina Rivers while enhancing the environment, encouraging historic preservation, and increasing public access. Through targeted and leveraged investments, RDC will create employment and residential development while promoting education, the arts, recreation and tourism. This position will report to the Director of Operations perform all essential administrative duties.
PRIMARY RESPONSIBILITIES AND ESSENTIAL JOB FUNCTIONS:
• Answering the organization's phone system and distributing incoming calls to staff members
• Processing outgoing organizational mail, including overnight and courier services.
• Coordinate bulk mailings
• Distributing incoming mail and fax correspondence to staff members in a timely manner
• Providing information on events and activities of the organization and surrounding area, including directions
• Processing requests for information and distributing organizational material
• Managing office supply inventory, order office supplies and research new deals and suppliers
• Providing administrative support to staff members, including typing, copying, faxing, and scanning
• Write and distribute email correspondence memos, letters, faxes and forms
• Processing checks
• Maintaining vendor files and project files
• Maintain up-to-date employee records
• Maintain contact lists
• Organize and schedule appointments as requested
• Provide general support to visitors
• Manage parking permits for monthly and annual parking holders
• Process payments for parking, venues, events and other
• Assist with reservations for various attractions (Riverwalk Mini Golf, River Taxi, Riverboat Queen, Horizon Riverfront Rink)
• Process donation requests
• Provide Quick Books assistance to the Comptroller
• Handle sensitive information in a confidential manner
• Performing other duties as assigned
POSITION QUALIFICATIONS:
• Minimum 4+ years as an administrative assistant
• Experience with office equipment (printers and fax machines)
• Proficiency in MS Office (MS Excel and MS PowerPoint, in particular)
• Excellent time management skills and the ability to prioritize work
• Attention to detail and problem-solving skills
• Excellent written and verbal communication skills
• Telephone skills
• Strong organizational skills with the ability to multi-task
• Self- Motivator
• College degree preferred
ENVIRONMENT:
Working environment entails working inside the facility.
OTHER JOB INFORMATION:
This position includes full benefits (health, dental, pension, vacation time and sick leave). There is no relocation allowance. Salary is commensurate with experience.
HOW TO APPLY:
To apply, please send cover letter, resume and salary requirement to jobs@riverfrontwilm.com and place the job title "Administrative Assistant" in the subject line. No phone calls, please.