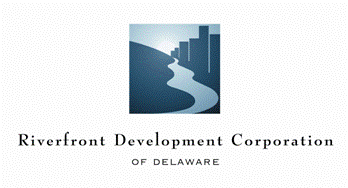 The Riverfront Development Corporation of Delaware (RDC),
created in 1995, by a Governor's task force to oversee the futures of the Brandywine and Christina Rivers. Established with primary funding from the State of Delaware and some additional contributions from the City of Wilmington and New Castle County, the RDC is focused on creating economic vitality along the Brandywine and Christina Rivers while enhancing the environment, encouraging historic preservation, and increasing public access. Through targeted and leveraged investments, RDC will create employment and residential development while promoting education, the arts, recreation and tourism. This position will work with the Executive Director to develop and implement initiatives related to RDC's mission and strategic plan.
ESSENTIAL JOB FUNCTIONS
This position provides additional capacity within the organization in order to accomplish RDC's strategic goals.
Job functions include:
Provide direct support for the Executive Director in creation and implementation of overall strategy for development of the Riverfront;
Provide project management of organization and development projects;
Act as liaison with state and city government departments, the Delaware General Assembly and Congressional delegation;
Research and advocate for federal and local grants to support RDC projects;
Assist in the development of the organization's operational budgets;
Along with the Executive Director, manage committees of the RDC Board of Directors;
Assist in cultivating community and business partnerships, including sponsorships;
Promote RDC to various community based organizations;
Oversee special projects;
Provide feedback and content when needed on marketing strategies;
Oversee office policies and procedures.
JOB SPECIFICS
The successful candidate is required to have:
Bachelor's degree in a relevant field
Minimum seven years demonstrated related or relevant experience;
Exemplary project management skills;
Strong organizational skills;
Superior communication skills;
An ability to problem‐solve;
Ability to work in a fast‐paced environment;
Excellent computer skills, including proficiency with Microsoft Office suite;
Ability to find creative solutions;
Ability to work flexibly, including some evening and weekend
The successful candidate may also demonstrate:
Experience in or awareness of economic development;
Ability to be self‐directed and a self‐starter;
Capacity to work well both independently and as part of a team;
Creative thinking and problem solving;
The ability to prioritize tasks and follow consistent routines;
Strong interpersonal skills;
An ability to adapt communication skills to a variety of stakeholders;
Knowledge of Wilmington and/or riverfront development projects.
OTHER JOB INFORMATION
This position includes full benefits (health, dental, pension, vacation time and sick leave). There is no relocation allowance. Salary is commensurate with experience.
HOW TO APPLY
To apply, please send cover letter and resume to jobs@staging.small-design.flywheelsites.com and place the job title "Deputy Director" in the subject line. No phone calls, please.
FOR MORE INFORMATION
Further information about Riverfront Development Corporation may be found at www.staging.small-design.flywheelsites.com.