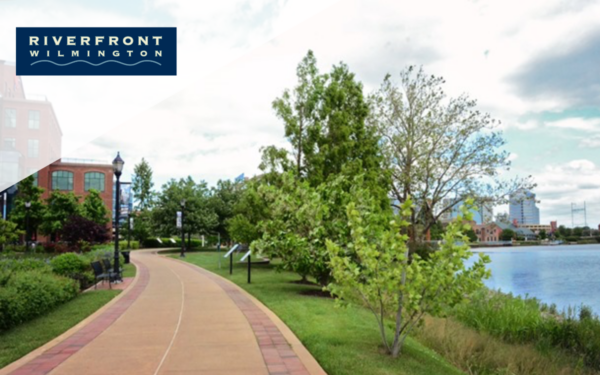 Location: Our Riverwalk stretches from Tubman-Garrett Riverfront Park to the Shipyard Shops, and extends to the DuPont Environmental Education Center and newly added Markell Trail. Hare Pavilion is located roughly midway along the Riverwalk, at the foot of old West street at the Christina River. Host an event: If you are interested in hosting an event at Riverwalk or Hare Pavilion please fill out our online inquiry form. To view our event guidelines and procedures, please Click Here.
Park your car and stretch your legs along the Riverwalk. This 1.3-mile riverfront path provides pedestrian access to attractions along Riverfront Wilmington. Strollers can enjoy extensive native plantings with more than 5,000 trees and shrubs, 36,000 grasses, perennials and annuals, and 27,600 wetland plants.
When you are ready for a rest, you can relax on the path's numerous gathering areas, benches, or the Hare Pavilion. A 30 by 40 foot pavilion overlooking the Christina River at the foot of Old West Street, right on the Riverwalk. The landscaped area surrounding the Hare Pavilion can accommodate up to 300 people. It is available for corporate, private or community events.
The Riverwalk and the Hare Pavilion are a great way to see the beauty of the Riverfront while enjoying all its amenities, history and entertainment.