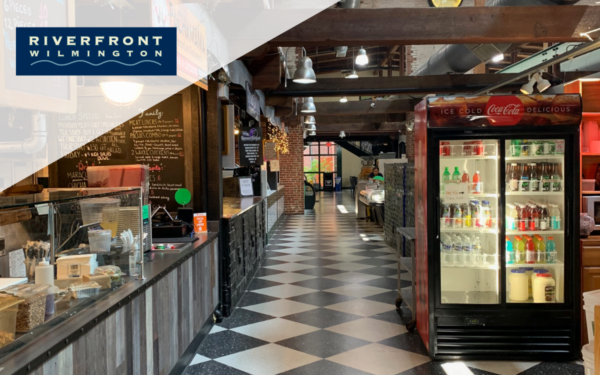 Riverfront Market is located on the Christina River at Market Street, across from Tubman-Garrett Park. The Market occupies 10,000 square feet of a beautifully restored historic warehouse, which features vaulted ceilings, heavy timber construction and exposed brick walls. Vendors are located on the ground floor of the building, where they sell fresh produce, salads, sandwiches, seafood, coffee, pizza, sushi, Mexican and Thai foods, gourmet treats and more. A second-story balcony provides seating for patrons. The Market has become an important activity center for the north end of the Riverfront. Residents and employees from all across the Riverfront and Downtown-Wilmington frequent the market for lunch, dinner, and meetings. The Market offers free two-hour parking in their lot, as well as free two-hour parking in the overflow lot, located across Market Street adjacent to Tubman-Garrett Park.
Shop Vendor Information:
Jeenwong Thai Cuisine – 302.655.5140
Riverfront Produce – 302.777.1990
Tokyo Sushi – 302.658.6586
La Taqueria Santa Fe- 302.777.0107
Savanna Salads Bowls & Sandwiches- 302.656.5352
Pachamama Peruvian Rotisserie- 302.655.3800
Serena's Soulfood- 302-762-1608
Leasing information:
Please contact the Riverfront Development Corporation of Delaware Office at: 302-425-4890.