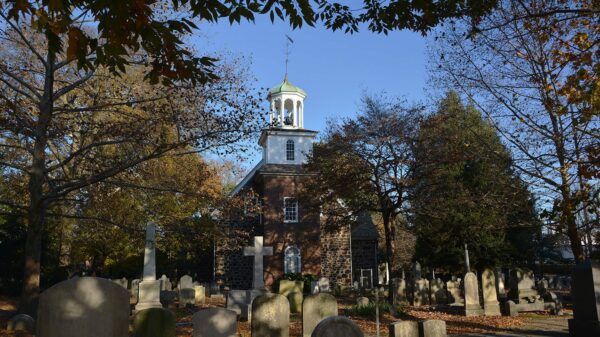 The history of Old Swedes Historic Site dates back to 1638, when Swedish and Finnish settlers arrived on the Kalmar Nyckel and Fogel Grip and established Fort Christina in what is now Wilmington, Delaware. Our site was used as a burial ground for the Fort, but also holds signs of earlier use by the Lenape Native Americans. Holy Trinity (Old Swedes) Church was constructed 1698-1699 to serve the Swedish community that remained in the English colony of Pennsylvania after Swedish Lutheran missionary Erik Björk arrived in 1697.
Standing the test of time, Old Swedes Church is one of the very few surviving remnants of the New Sweden Colony in the Delaware Valley, and one of the oldest structures in Delaware. It has borne witness to many major events in U.S. history, including the American Revolution, World Wars I & II, and many more. Many individuals significant to local and national history are buried here.
Old Swedes Church and its burial grounds are complemented by the Hendrickson House, dating back to c. 1722. Built by a Swedish-American family in former New Sweden, it originally stood in Ridley Township, Pennsylvania. The House was preserved and relocated to our site in 1960 to serve as a museum, office, and research space.
We invite all to come and discover our story firsthand. Learn more about visiting Old Swedes.
Tours: $12 per adult; $7 per student (ages 6-15)/military/first responders; free for children 5 and under. Tours include Holy Trinity (Old Swedes) Church, the 1638 Burial Ground, and the early 18th century Hendrickson House.
Your admission includes access to the new Self-Guided Cemetery Tour app. Members are always free. Join now! Visitors are also welcome to walk the cemetery grounds for $5 per person; under 6 years free. Includes the Self-Guided Cemetery Tour app.