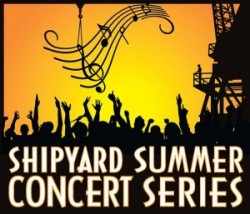 Last 2018 Shipyard Summer Concert-THIS THURSDAY!
The 2018 Shipyard Summer Concert Series
The sounds of live music and family entertainment will return to the Riverfront this summer as the Shipyard Summer Concert series begins on July 5, 2018 and runs through August 31, 2018 This free concert series is held on Thursday evenings from 7-8:30 p.m.  This year's concerts will be held on the tranquil grounds of Tubman-Garrett Riverfront Park overlooking the Christina River. This year's concert series will run for 9 weeks. Concert-goers will be treated to the sounds of big band, jazz, folk, country, funk, rhythm & blues, rock, reggae, hip-hip & opera while enjoying the unique scenery of beautiful Riverfront Wilmington.
July 5              The Steve Lewis Big Band (Patriotic, Standards, Jazz & Swing) 
July 12          Dr. Harmonica & Rocket 88 (Rock & Roll) 
July 19            Timlin & Kane (Family Night with Irish Folk Music) 
July 26             Elizabeth Knecht (Standards, Show Tunes, Italian Opera)      
August 2          Tony Sands (Frank Sinatra) 
August 9          Best Kept Soul (Rhythm and Blues, Gospel, Jazz, Funk, Hip Hop and Rock) 
August 16        The Larry Tucker Band (Rhythm and Blues and Motown Oldies) 
August 23        The Barbone Street Band (New Orleans Style Jazz & Dixie Land)           
August 30        Voodoo Deville (Blues, Boogie & Swing)